I seem to be more or less keeping up with reading my favourite blogs at the moment, and commenting from time to time, although not as much as I like to do. I love the interaction of blogging, and love to get to know people more through each exchange of thoughts triggered by blogging's ponderings.
Anyway....with a window of just about 10 -14 days within each 3 week period, where I feel human, between chemo sessions.....getting a blog written has not been a priority. I am filling my good days with trips and visits, walks, and socialising in the real rather than virtual world. However, I keep having ideas that I have to jot down,....thinking, oooh, that can feature in a blog soon.
I had one of those moments earlier this week, when still feeling really poorly, just 4 days after a 6 hour day of chemo infusion. The postman arrived with a parcel...clearly a book....that I struggled to recall ordering. Then all became clear. Annie, from Alacala, from Moving On, previously from our Kirklees working days, had sent me a book that she hoped I would enjoy.
I haven't started it yet, but it is next on the list, and I am so looking forward to it. This is partly because if Annie has recommended it, I am sure I will love it, and partly because I wish I had written it. The title has me completely sure I will love every word. It has conjured up a huge web of connected thoughts for me. If you have the patience.....let me explain.
When I was very young, my grandparents, Alice and her very violent and unpleasant husband, Thurlo, lived on West Hendon Broadway in north London. Every Saturday morning, Mum and I ( and after 1959) Mum, my baby brother and I, would catch 2 buses from our home in Mill Hill East, to "the Broadway". My grandmother prepared lunch, always ready for us when we arrived, and after lunch, we would walk along the Broadway to pick up a few bits of shopping. It was always a treat for me, because, at the far end of the Broadway......was........ Woolworths.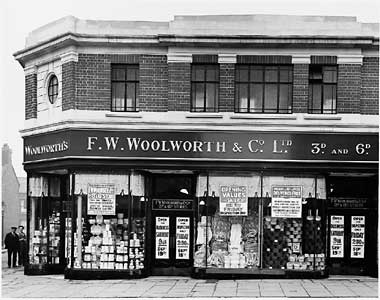 This isn't my West Hendon Broadway Woolworths.......but this is exactly how I remember it.
I adored it. I loved the huge heavy double dark wooden framed glass doors, the speak your weight machine that was just inside the middle double doors, the polished wooden floors,

and the huge high island counters spread with complete treasure troves.
My favourites were not the toy or sweet counters, although they had to be visited each week. I loved the wool counter, the haberdashery counter, the soap and cosmetics counter and the small kitchen utensil counter.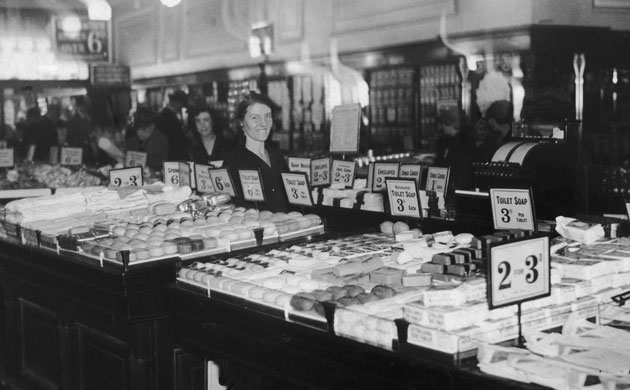 again.....not actually the West Hendon branch.....but this is what I remember, even if this photo was taken at the end of the 1930s...not the end of the 50s.
( Years later I always laughed when I heard the gorgeous Nanci Griffith' song about her local Woolworth's "5 and dime store" in Lubbock in Texas, which sold
" unnecessary plastic things", had an elevator that went "ping" and that she always had time to run into and check out a bin of cheap records while she waited for a bus home from school.)
Visiting Woolworths with my mother and my grandmother and baby brother was the highlight of my week. The noise of people's feet on the wooden floor, the smell of polish and the colours from the counter contents are so vivid in my memory, and it all came rushing back to me when I opened Annie's gift to me.
We always bought something....usually for me I expect.Those 2 women spoiled me rotten.We always weighed ourselves and laughed at the speaking machine, and then we wandered back home to number 158, where we had a cup of tea and a piece of my grandmother's wonderful home made

lemon sponge cake, before setting off on our 2 bus journey home. My grandfather was rarely home....which was a good thing, although I now know that probably, after we left, he returned home from an afternoon of drinking and gambling, and my grandmother did not usually have a happy Saturday night.
In 1962 or 3, with my grandmother's help, I bought my mother a mother's day gift from Woolworths on Hendon Broadway. It was a set of salad servers. They cost 1/9d..........less than 10p in current currency !

I still use them.
Now, 50 years old.....still going strong.
So maybe, my novel should be called " Our salad servers came from Woolworths"
Thanks Annie, for setting off this train of thought. I've enjoyed it so much, and now I am really looking forward to reading the book.